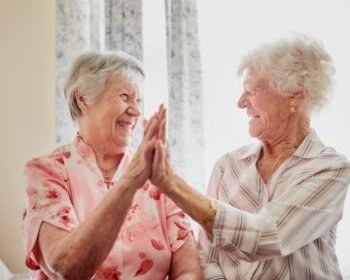 "Alexa, set an alarm for 9:00 p.m." My mother-in-law Carol takes a medicine at night, that's best ingested an hour or so before she'd otherwise be sleeping, and best administered at the same time every evening. Generally, she does really well managing her meds, except for an inclination to forget this part of her nighttime routine.
I found myself talking to "Alexa" recently, starting out confident that I could easily program "her" to sound a musical alarm every evening to help Carol remember her pill. "She" had other plans. This funny memory of talking to our smart speaker made me think of a handful of changes we've made recently that have made small improvements in Carol's quality of life. Maybe they could be helpful to someone you love, too.
It's true that I couldn't talk my mother-in-law's Echo into setting a daily reminder at 9:00 p.m., but don't be deterred. I just needed to make the setting changes in the app. After opening the Amazon Alexa app, tap the More icon in the lower right, then select Reminders. On this page tap the Add Reminder button and complete the options to indicate a reminder that repeats daily. Then save the selections. Poof, every evening some music plays to remind Carol to check this task off her to-do list.
Carol's pretty good about keeping her daily planner up to date. She's in a pattern of writing things down as she receives phone calls or comes back home with the next appointment card. The average planner that she picked up from the local drug store was failing her, though, because after she filled in her notes on the small calendar blocks provided, her dulling eyesight prevented her from reading her own handwriting that she'd crammed in the space. She had already missed a couple appointments as a result. After a quick online search we selected a large print high-contrast daily planner that's much easier for her read with plenty of space for her notes.
Speaking of her vision, her eyeglass prescription has changed at each of her last couple annual visits. Last year she paid $700 dollars to purchase her new prescription in frames from the eye doctor's office. At the staggering price, she was reluctant to carry the glasses with her outside the house for fear of dropping and damaging them, or losing them. This year when her prescription changed again, we requested the paper copy of the script and used zenni.com to order new frames with her prescription lenses. At $70 each, she's much more comfortable taking her eyeglasses everywhere she needs to and purchasing a backup pair. There are a few reliable eye glass websites like Zenni, and if you decide to look into this option, it will be especially helpful if your eye doctor will include your pupillary distance on the prescription paperwork.
This past weekend we changed out Carol's regular doorknobs for levers. Her arthritis is so uncomfortable some days that gripping and turning a doorknob is a challenge. Even on the bad days, the levers are much easier to manage. We found the instructions in the box easy to follow and ended up just needing a little patience and a screwdriver.
Sometimes little things can make big things happen