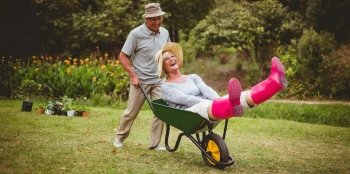 Artificial or the Real Deal
By: Amber B. Woodland, Esq.
A few springs ago, I fell into the trap of purchasing artificial plants to fill my outdoor urns. I was baited by beautiful arrangements displayed in glossy catalogs that timely appeared in my mailbox as the weather warmed and the pollen fell. What a convenient, easy solution to making my patio look beautiful for summer!
Beware: When something looks too good to be true, it probably is.
Doesn't it seem like a great solution to an otherwise time-consuming, laborious, and pricey endeavor? No trip to the nursery, no planting, watering, or deadheading, and no need to spend money on annuals that will just wither and die at the end of the season only to be uprooted and then replaced next year. Why not buy the artificial urn-fillers once, plop them in their respective containers, admire them, use them year after year, and be good to go until the end of time? It didn't work out that way.
Within a week of unboxing my expensive fake flowers, the wind had blown them out of their respective urns on multiple occasions. Every time that happened, fake "petals" were lost. The artificial "berries" were dented. A few weeks after that, the sunlight had faded the arrangements to a dull version of what they once were. I was annoyed and dissatisfied.
Instead of buying a can of green spray paint and a hot glue gun to spruce them up, I threw them all away at the end of the season and vowed to never do that again. What a waste! Lesson learned.
Fast forward to the next spring. One sunny day, as I'm filling my urns with living plants and flowers from a local greenhouse, my mind started to wander. "This is so much more enjoyable and rewarding," I thought. "I designed this myself and it's unique to me." "Even though I must maintain and nurture it over time, I'm much more satisfied, and everyone else around me will be able to enjoy the fruits of my labor, too!"
Here's the thing. Artificial means no roots, no design or creativity, no nurturing, no growth. Designing your estate plan is a lot like this. While you may think your planning is simple, and Legal Zoom or a basic Will is all you need, be careful. A do-it-yourself estate planning kit may seem like an inexpensive, easy, and convenient solution, but will it stand the test of time? Will it have to be fixed in the future? Is it unique to you? Have you customized it to suit your specific wishes and needs? Have you engaged with experienced professionals to ensure your assets are aligned and your plan will work as intended? How can you be sure it will benefit your family after you're gone?
A "real deal" estate plan, like my living, flowering urns, requires a lot of tender loving care, but it's worth it. After all, your most-likely estate planning goal is to take care of the people and/or charities you value most. You can guarantee that's been done by foregoing artificial and opting for the real deal…even if that means spending a little extra time, money, or both. Cultivating an estate plan that's rooted and unique is priceless and will continue to flourish even after you're gone.